The old plugin had problems whith new jQuery and was based on a very outdated version of FancyBox.
The fancybox features are those of the old version simply for compatibility, maybe someone goes and add some usefull ones. A full explanation you can find here:
http://www.websitebakers.de/tutorials/topics/einbindung-der-fancybox.php
WARNING:
Don't use the Droplet or the code section to activate the fancybox unless you know what you are doing!
The code for FancyBox belongs into the template at the end of the
section: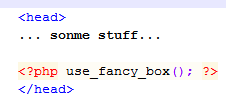 IMPORTANT:
By default FancyBox does not load jQuery anymore as in most scenarios wbce already loads jQuery via the frontend functions. So I added 2 optional parameters.

Loads the default jQuery from WB(CE) installation.

Loads a modern jQuery via Google CDN.